The Journey to the Golden Fleece Returns!
I am just cross posting my original post from the Fiberygoodness blog, because afterall, this IS where it all began 🙂  Between my WoolWench website and the Spin Artiste blog, plans were hatched and activity ensued! I am very proud of the way our Journey to the Golden Fleece Creativity in Fiber course has developed, and the way the Fiberygoodness community has grown! We started out with a vision and it turned into a plan, which has morphed and altered along the way but remains true to its origins and initial dreams.
I am very excited to be launching the fourth edition of this creativity boosting course for fiber artists! What follows is an excerpt from my Fiberygoodness blogpost and some information about this 10 month course for spinners!

We have taken some time to relaunch our Journey course, and in that time we have been very busy behind the scenes, streamlining our ship, revisiting our maps and guides, and anticipating how to deal with any of the trials we may come across. We are very excited to be adding a new video component, much like we have done with the S3 Course, we will be adding a video for each module in which Arlene and Suzy discuss the contents of the module, the goals and different pathways there are to them, and of course we will add in any relevant demonstrations of spin technique or fiber prep as well. We will also be hosting pop up class sessions! We will be sure to give enough notice for people to be able to join us and will vary the times to allow people in all the different time zones to have the opportunity to chat about the course with us too.
We have also revised how we will be providing personal feedback on all the yarns sent in from each module and we think you are going to really enjoy the new and exciting format we have chosen for this! When you send us in your yarn photos we will be recording our responses and feedback in video format, its a chance for us to be a bit more personal than email and also to offer you visual support such as sharing examples and showing a technique. We are pretty excited about this and hope its going to be a great addition to the way we can support participants in this course!
With enrolments we will again be supplying the special edition Majacraft circular loom as one of our options, and all graduating students will receive their very own  Majacraft Journey to the Golden Fleece Badge with the class logo and their Certificate of Completion.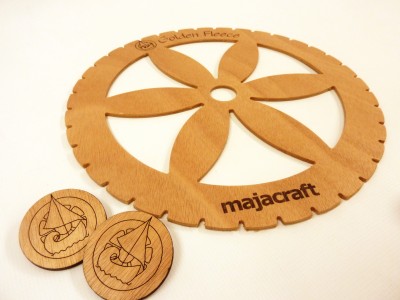 Please head on over to THE FIBERYGOODNESS COURSE PAGE  and learn more about this unique Fiber Creativity course!  You can read the testimonials, follow the link to the student galleries, and find out more about the course content. We would love to have you join us on this exciting new edition of our most beloved spin course 🙂
And as usual, we will be offering a Scholarship to one Giveaway winner, just share the post and comment ON THE FIBERYGOODNESS BLOGPOST and  let us know what kind of yarns you aim to spin this year, and you will go in the draw to win the Golden Fleece Creativity course with special edition loom! If you already signed up, we will refund your registration fee 🙂
Arlene and Suzy
xoxo